C.G.Jackson inherited a fortune.He devoted his whole life to boats, sailing and the archipelago. After his death in 1957, his collection was donated to the Swedish Maritime
Museum.
A dandy with a dedicated maritime interest
C.G. Jackson inherited a fortune and did not need to work. Instead he devoted his life to ships, boats, sailing the Stockholm Archipelago. In his little dinghy he sailed around the islands. He also took thousands of trips on the harbour ferries and archipelago boats and made meticulous notes about arrivals and departures from the jetties.
He was a popular and active member of the Royal Swedish Yacht Club, the Swedish Cruising Association, the Neptune Order and other maritime associations.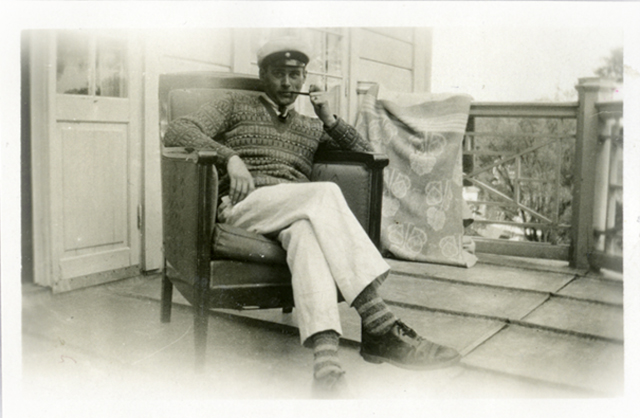 The Carl-Gösta Jackson collection
The Swedish Maritime Museum received the donation of a very large and varied collection following the death of C.G. Jackson in 1957.
The contents of the collection:
12,000 postcards and photographs, mostly from the Stockholm quays and archipelago;
notes from his boat trips;
timetables and posters from archipelago and coastal lines;
newspaper posters about nautical disasters;
a complete nautical library.
Everything points to a burning passion for the sea, and also to a person following his own path, even though it may at times seem rather odd.
Objects on display in the exhibition:
Colour print with Roslagen sloops in the Stockholm Archipelago, signed A. B. -04. S 6235