Erik Ekegren began collecting maritime art and other maritime-related objects in the 1970s. For Erik Ekegren, like many collectors, collecting is the great passion. Since 2007, large parts of his collection have been deposited at the Swedish Maritime Museum.
A devoted maritime collector
Erik Ekegren is a former businessman. For many years he was CEO and principal owner of the bakery group Pågen AB.
He has always been interested in the sea and in the 1970s he began to collect maritime art. In 2007 he sold a large part of his collection to the Friend Association of the Swedish Maritime Museum who in turn deposited it in the museum.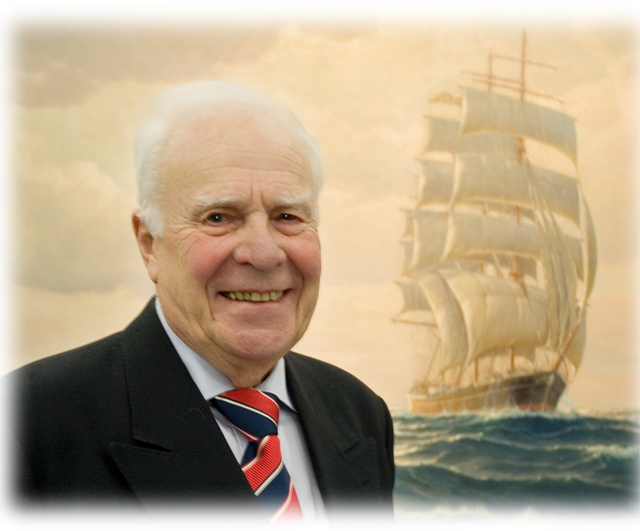 The Erik Ekegren collection
The collection contains works by renowned artists, for example:17th century Dutch painter Ludolf Bakhuizen, the classic Swedish artists Marcus Larsson, Jacob Hägg and Herman af Sillén and the watercolourist Anna Palm de Rosa. Furthermore, a number of standard "captain's paintings" of sailing ships and steamships from the 19th and early 20th century as well as recent pictures of magnificent vessels from the heyday of sailing ships is included.
Erik Ekegren also collected stamps with images of ships and artefacts from ships and sea travel.
In his collecting, Erik Ekegren is primarily fascinated by the image of the ship. In these paintings people are often less prominent.
Objects on display in the exhibition:
Battle between the frigates Shannon (Britain) and Chesapeake (USA) 1813. Oil painting by Barry Mason (b. 1947) 1977. SM 28786.
Ekegren collected stamps from the whole world, mostly with ship motifs.
Anna Palm (1859-1924) watercolours. (Called Anna Palm de Rosa after 1901).
Gothenburg harbour. Watercolour, probably 1890s, by Anna Palm, SM 28709.
Picture of harbour. Watercolour, probably 1890s by Anna Palm, SM 28735.
Ships outside Gothenburg. Watercolour, probably 1890s by Anna Palm, SM 28733.
Steamship in Bordeaux harbour. Watercolour, probably 1890s by Anna Palm, SM 28734.
Sailing boat in heavy seas. Oil painting 1882 by Herman af Sillén (1857-1908). SM 28624.
Fishing boat in heavy weather. Pastel, undated, by Herman af Sillén (1857-1908). SM 28701