Kjell-Ove Matsson was a pioneer in marine archeology. As a diving amateur researcher, he investigated ship remains and archaeological finds in Lake Mälaren and Hjälmaren.
Diving researcher on shipping
Amateur divers and their voluntary contributions play an important part in the archaeological work of the Swedish Maritime Museum. Kjell-Ove Matsson's special area was shipping on the lakes Mälaren and Hjälmaren during recent centuries.
In the winter he researched in archives and collected information about vessels and their crews, ports, shipping routes, piling barriers, waterside inns and much more. In the summer he went diving, photographing and documenting. He provided the Swedish Maritime Museum with measurements of the remnants of 265 vessels and the positions of hundreds of more wrecks.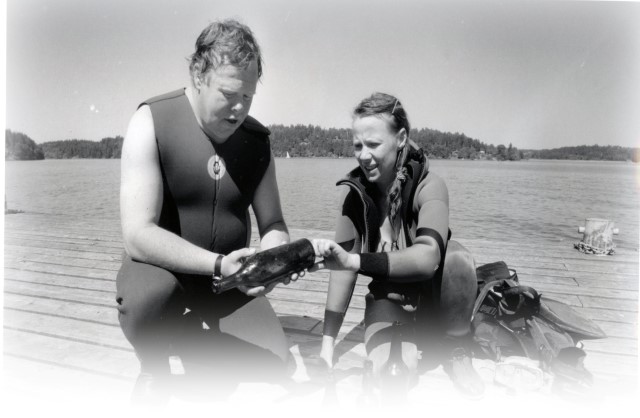 The Kjell-Ove Matsson collection
The collection contains Kjell-Ove Matsson's typewritten reports (he never used a computer) and hundreds of his own photographs of passenger boats, tugboats and abandoned wrecks.
There are also objects, mainly in glass and ceramic, salvaged by Matson as unattributed finds. Overall, the collection, compiled over 30 years of work in the field and in the archives, provides priceless historical knowledge about maritime activity on the lakes Mälaren and Hjälmaren.
Objects on display in the exhibition:
Glass and ceramics collected by Kjell-Ove Matsson in marine archeological investigations, mainly in Lake Mälaren and Hjälmaren in the 1980s and 1990s.
Finds from the places for the old Mälarsjö restaurants "Fader Höks" restaurant, the current "Klubbensborg" in Hägersten and "Arboga kitchen" in Skärholmen. SM 28171.1-28