Robert Boman photographed and documented ships all his life. He carefully wrote everything down by hand on catalog sheets. The documentation and 15,000 photographs were donated to Swedish Maritime Museum after his death in 2002.
A meticulous documentalist
Robert Boman was a professor of procedural law in Uppsala. He was also active in the theatre, where he wrote and performed cabaret songs and wrote two detective novels.
In his spare time, he traveled and accompanied cargo ships, bouth in Sweden and around the world. During his travels, he photographed ships and then posted the pictures on catalog sheets with information about the ship's dimensions and history. He also collected older ship photographs.
After he retired, this documentation of ships became almost a full-time occupation. The collection, approximately 15,000 photographs, was donated to the Swedish Maritime Museum when Robert Boman passed away.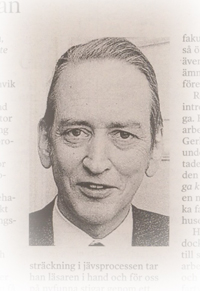 Catalogue entry, Motorshipp Norrland
On 25th of March, 1967 Robert Boman photographed the small German cargo vessel Norrland in a Swedish harbour. In the catalogue entry, he wrote the technical details of the vessel and information about the owner and the home port.
The details in the catalogue have since been updated with changes of owners and names and ends with a notice about the loss of the ship in the Mediterranean on 20 November, 1994.
Robert Boman's catalogue entry gives no information about the size or composition of the crew, nor any fatalities.
Objects on display in the exhibition:
Registration card photograph of Motorshipp Norrland